Post at Apr 23, 2021
Couple Counselling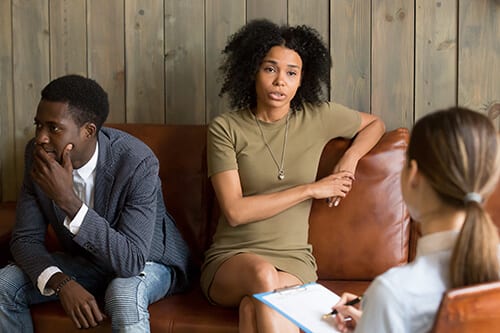 Regardless of whether the two of you have an odd tiff once in a while, or you have altogether stopped having good times – not very many connections exist struggle free. Some couples do try to resolve the issues between them without help from outside. However, it often turns into mind games or a power struggle with one trying to convince the other of their point of view.
This does not happen when a Counsellor becomes the mediator or guide as they are non-judgmental and have no stake in the argument. Seeking a Relationship Counsellor is beneficial as they hold no ulterior motives and are neutral when giving a new perspective to handling your relationship more maturely.
Seeing a Counsellor can help resolve issues with or without your partner involved. As I believe "When You Heal… Relationship Heals". Also, as you begin the Journey into Love, much will become clear for you.
Jealousy
Possessiveness
Family Interference
Trust Issues
Extra-Marital Affair
Lack of Communication
Financial Issues
Work-Life Balance Issues
Parenting Styles Issues
Professional Goals
Personality Clashes
Power Games
Many such issues, if left not resolved in time can turn into an ugly phase which may become more difficult with passing years. Take Charge Now!
So are You Ready to Resolve and Evolve?
Wherever you are… We can begin the Journey Online…
No More Running Around… No Distance to Hold You Back…
Take the Action